Ideas for Antique & Vintage Quilt Decorating by Vintageblessings
The Antique Quilt Collection
Decorating with Antique and Vintage Quilts
By Trish Failla, Vintageblessings




Antique and vintage American handmade quilts are perfect for decorating with. They can bring color and design to a large wall (which can be burdensome to decorate) as well as any surface of your home!

If you love the look of design magazine room photos, then you will realize quickly that many of the items in these rooms are one of a kind. They are collected over time, and not ordered from catalogs that offer the same item by the thousands.

Quilt collectors already know the value (as well as the investment aspect) of antique quilts. They already know that a tangible, beautiful piece of textile art can not only be an investment, but bring joy to our daily lives, all the while decorating our homes. So much more fun than a stuffy old stock or bond!

When looking for your quilt, always, always, make sure you are dealing with a reputable and knowledgeable quilt dealer. You should first find the design and color that you love, then check for condition and quality of workmanship. If you will be using the quilt in your home, is the quilt clean? If not, is it able to be cleaned?

There are endless ways to decorate with antique quilts. Here are some great ideas for you: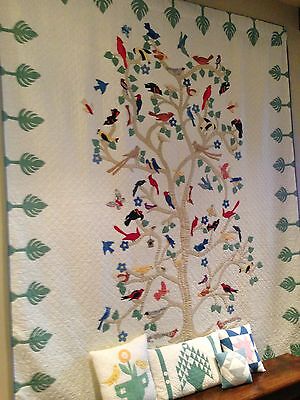 Sun Valley Chalet, Idaho
One of my dear customers and friends, Maureen, has chosen an incredible appliqued 1930s Tree of Life quilt for her Sun Valley home. She chose to hang it in her entryway, where it surely cannot be missed and all can admire and smile, finding the stitching and creativity an amazing feat. Her coordinating quilt pillows and antique bench are the perfect touch for her vignette for this welcoming place. (Quilts and pillows from Vintageblessings)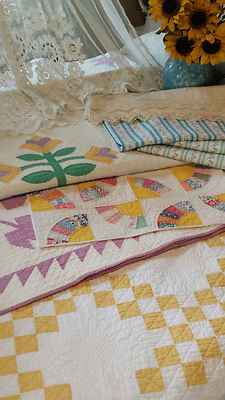 The Guest Room
If you have a room that you can take a peak in every time you pass, this is the place to layer your quilts!
Start with antique linens, especially nice is using handmade, lace trimmed sheets and pillow cases. Chose your quilts with a common color thread, and they will look perfect together! Each time you pass by, you can smile and enjoy your smart and savvy investment!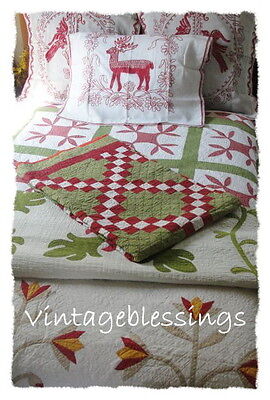 A Christmas Carole
Nothing will bring the holiday spirit to your home, quite like decorating with antique quilts. Now is the time to layer your treasures with greens and reds, pairing with antique redwork and fine laces.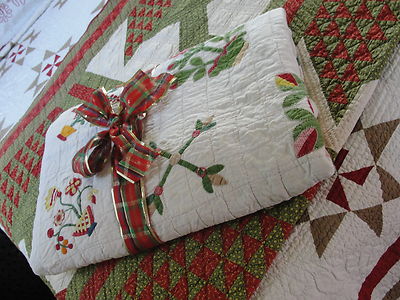 Heirloom Gifts to Remember
Imagine the joy of an antique quilt under the tree....if you are fortunate enough to receive one, have an embroidery shop make you a label for the back. State the date, to who, from who, and the era of the quilt.

For Example:
"A gift to my daughter Bree Jaynes on Christmas day 2014, Love Always, Your Mother, Patricia Failla. (c1880 Ocean Waves Antique Quilt)"
It will not only be a treasured gift this year, but one that will be handed down thru the generations. Yes, you CAN pass down your own heirlooms if you don't have any from your own family! Just be sure to document the occasion to help the future generations fully appreciate it!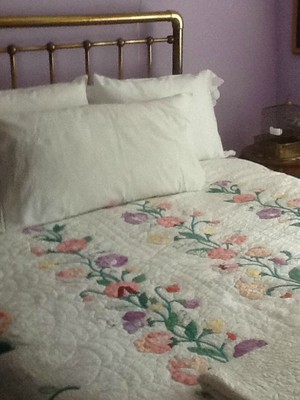 The Cottage Home
Delicate florals, soft pastels, time worn wooden bowls and fresh flowers in a mason jar.
The smell of fresh baked bread and honeysuckle on a summer day.
The sound of a wooden screen door slamming as a friend, or grandchildren burst thru the backdoor.
Enhance your own cottage home with antique and vintage American quilts. This lovely 1930-40s sweetpea applique quilt was chosen for a very special home in Alaska, by Sue. She has a fabulous quilt collection that she truly enjoys.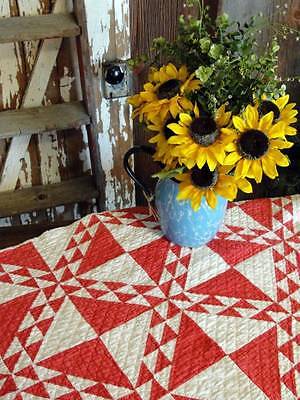 The Primitive Country Home
It is always relaxing in a primitive country home, with the well worn finishes, you can always put your feet up, and children are a delight! Use antique quilts on tables, walls and stack in cupboards so you can enjoy them everyday!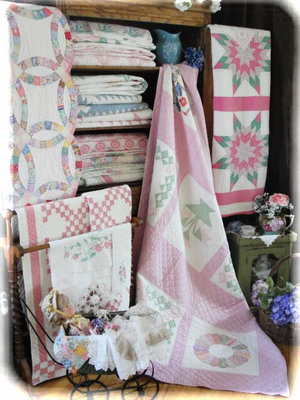 The Romantic
Pink and white and all that is right, that is the romantic, quilt filled home. So sweet, comfortable and beautiful. Choose pastels and quilts of the depression era (1930-40s) for your ultimate vignette!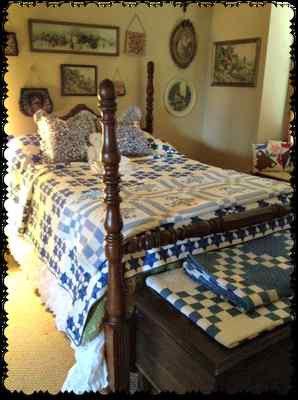 The Antique Filled, Classic Home
We chose a blue and white theme for this guest bedroom, an easy way to coordinate with beautiful antique prints and samplers. We started with a bedroom set that belonged to our dear Great Aunt Dorothy. We layered with antique linens and laces in white. Beautiful.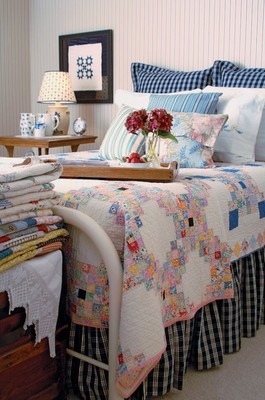 Layering is the key
For exhibiting a wonderfully large collection, think of layering! Rotate your collection every month, for a new look. Fabulous!
Don't have a large antique quilt that will fit a king or queen size bed (there are very few that were made large enough for todays' beds) Use your antique quilt at the foot of the bed like I do. Remove it at night. I used several patterns of Ralph Lauren for my bed ensemble, and the antique basket quilt goes fabulously with it, at the end of the bed.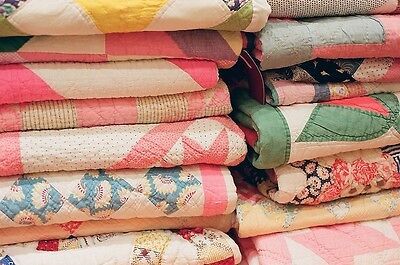 Stacked
One of the easiest and prettiest ways to show your quilt collection is to fold and stack. Remember to refold monthly.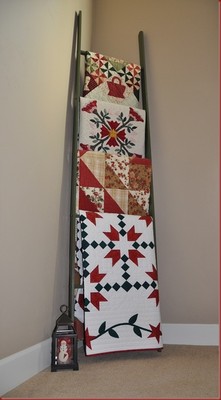 Go Up!
Ladders look great in the farmhouse as well as the New York City loft.
What a great way to showcase your collection as well as adding color, design and appeal to your home! You can find ladders locally at salvage shops, on craigslist or your local orchard (just ask, they will sell at a reasonable price!)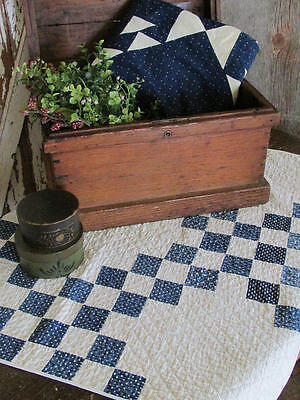 Little Quilts Around the House
So easy to use the little doll quilts around the home, on a table, a wall or hang out of a basket for a wonderful country look! We find early, well quilted quilts that have damage on some areas, and make small quilts with them. See our store for "doll and table" quilts to use throughout your home.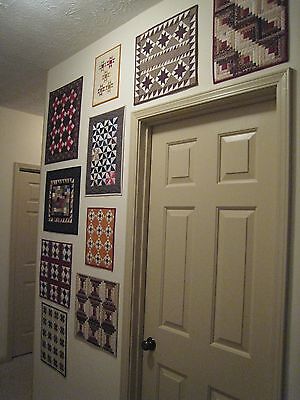 Go Small!
Antique doll quilts make wonderful wall or table quilts. Small in scale as well as size, these little beauties will fit anywhere!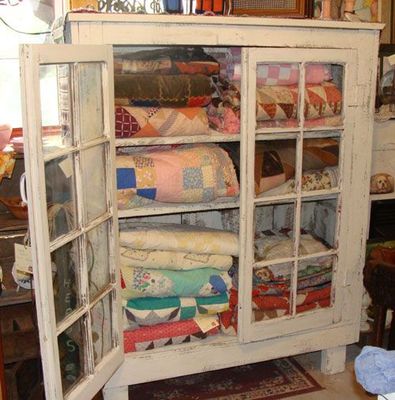 Cabinets
I love the look of quilts in cabinets, from whitewashed pine to a deep mahogany. You cannot go wrong. Just remember to rotate and refold monthly!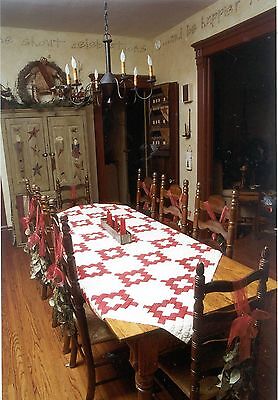 Table Quilts
Yes, quilts look amazing on tables. Just do not have an actual dinner on them! How many of us have a dining room that is rarely used? Why not spread out your antique quilt and enjoy it daily?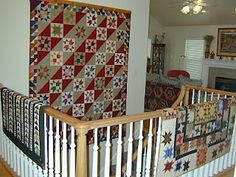 Bannisters
What could be better than using a bannister to display your quilt collection? This shows an amazing home that not only using the bannister, but also fills up that huge white wall. Gorgeous!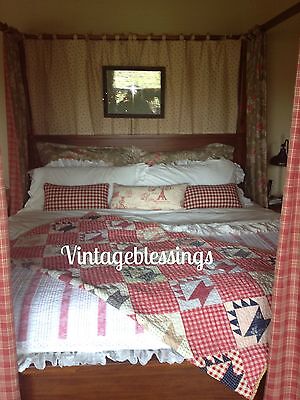 In closing....
My own antique quilt filled bedroom, a sanctuary to fall into at the end of the day. It is easy to integrate true, American antique quilts with any style home, I hope you have enjoyed ours and will leave your feedback and comments! Kindest regards, trish, Vintageblessings